Spinal Decompression in Lake in the Hills
What is Spinal Decompression?
Are you looking for spinal decompression in Lake in the Hills? You don't have to live in debilitating pain. Whether you have lower back pain, a pinched nerve, sciatica, radiating pain into the arms or legs, neck pain, or a variety of symptoms related to damaged or degenerative discs, spinal stenosis, and post-operative complications, as well as syndromes of the lumbar and cervical spine. Spinal Decompression may be for you.

---
What is Spinal Decompression in Lake in the Hills?
Non-Surgical Spinal Decompression is a non-invasive treatment for patients who suffer from neck and back problems. A decompression treatment slowly and gently lengthens or releases pressure in the spine through repetitive movements by a customized treatment table. The table pulls and releases, creating a pressure change within the invertebral disc, surrounding soft tissue, and joints. This pressure change allows the disc bulges or herniations and nutrients to be pulled back into the disc.
Rehydration of the disc and surrounding structures creates a physiological change that assists the body's natural healing process. Patients typically experience significant improvement within 20-25 treatments. Research suggests that continued improvement is seen up to four years following decompression treatment program.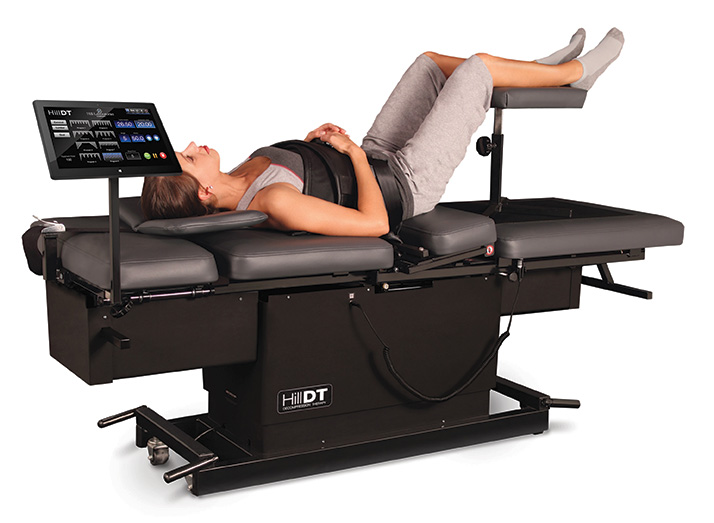 ---
Five Reasons to Consider this Treatment
Bulging or herniated discs
Degenerative disc disease
Facet syndrome
Failed back surgery
Ongoing lower back or neck pain that is not responding to traditional spinal treatment by an M.D., D.O., D.C., or P.T.
---
How Does Spinal Decompression Work?
Spinal Decompression Therapy treats Neck and Back Pain-related to Degenerative Disc Disease, Disc Herniations or Bulges, as well as Sciatic Pain. If you have been diagnosed with sciatica, a bulging disc or chronic back or neck pain, spinal decompression therapy can help. This revolutionary therapy is different from traditional medical treatments that rely on medication to "cover-up" pain. Decompression therapy is a drug-free, non-invasive alternative to back surgery and prescription painkillers.
---
A Formula for Relief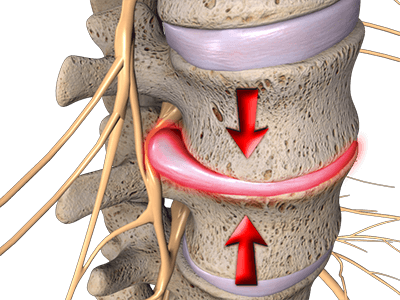 Through the logarithmic stretch and release protocols of the decompression procedure, negative pressure is created in the disc over time. This vacuum effect draws any herniated disc material back into the disc.
---
When Negative is Positive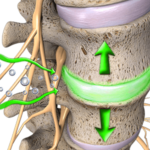 By reversing the effects of axial load or compression in the spine, increased circulation occurs which aids in the healing process.
When a herniated or bulging disc slips out of alignment, it may compress nearby nerves. This compression can block the nerves from properly sending and receiving messages from the central nervous system and brain, leading to chronic pain. As long as this compression continues, patients will suffer pain. Spinal decompression therapy creates space between the different vertebrae, providing room for the herniated or bulging disc to return to its proper space in the spine. This relieves pressure on the nerves.
---
Spinal Decompression Testimonials
"I went in with horrible back pain. Great pain in abdominal area. Just miserable. No energy. Went to 4 specialist that my G.P. recommended. The last specialist said I think it is your back. Having heard such great things about back traction. I checked out a few local practices. And Precise did back traction. Life saver. It has changed my life. I am back to doing everything. I have my energy back. It's like I got my life back. Highly recommend. Staff is great."
- Michael B.
---
"December through April I was experiencing a lot of pain in from my ankle to my upper thigh in my right leg. Everything I tried didn't work. I couldn't stand, drive in a car sitting, not to mention the pain at night sleeping. There seemed to be no escaping it no matter what position I was in. I went to see Dr. Sebastian at Precise Chiropractic Center and was diagnosed with Sciatica. He recommended Spinal Decompression which he specializes in. I started treatment immediately and within two and a half weeks I started seeing results. Within 3 weeks I became pain free and have continued treatment for 3 months now and no longer have any pain whatsoever. I couldn't imagine trying to play golf only once a week, but now I play four times a week with no pain. I sleep well now, participate and enjoy any and all the physical activities I used too without reservation or a thought of pain. I am continuing the Spinal Decompression for another year simply because it gives me the freedom I need and desire as a very active 63 year old. The Spinal decompression works and I will continue to utilize the only real medicine that relieves me from my pain. Thanks you Dr. Sebastian, I thought my days of physical activities had finally caught up to me at my age. Not anymore!"
- Michael O.
---
"I went in seeing the doctor with horrible back pain and I am forever changed. This practice is the greatest around to help with any type of pain. The spinal decompression program worked wonders on my back. I went from walking crooked to being able to lift things again and walking straight. Back to my normal activities. I've also learned how to maintain my healthy back from the doctors through much needed vitamins! Thank you doctors!"
- J P.
---
"Dr. Sebastian,
Just wanted to briefly comment regarding past D.O. diagnosis, your Chiropractic office and Therapy regimen prescribed.
Past: Initially Diagnosed with Lumbar Spinal Stenosis (determined from internal office X-Ray plus External MRI, reviewed by Osteopathic Physician. D.O. recommendations: Spinal injections, plus Prescription Drug (Norco) -for severe Lumbar spine and Left hip pain. Difficulty / painful walking stairs, even short distances. Given prescription Drug Norco: no help with pain / was very spacey. Stopped taking Norco after a week… D.O. Prognosis: Eventual Surgery, no guarantees afterward… Mental Disposition: Anxious about the possibility of needing surgery… Wife was very concerned as well…
Initial visit to Precise Chiropractic, X-Ray and external MRI review …
Precise Chiropractic Office: Always very professional and friendly, from Front Desk Personnel to Physical Therapists, to D.C's including yourself (Dr. Sebastian).
Diagnosis- Indicated Lumbar Spine pain from Lumbar Spinal Stenosis: cause: perhaps years of sports (baseball, hockey, competitive golf, building sweat equity, etc.) and other physical activities.
Precise Chiropractic: Past and current Therapy prescribed: Laser applications to Spinal Stenosis area, Hill DT Decompression Table Therapy, coupled with Dr. Fuksa's Chiropractic adjustments and recommended stretching. Approximate 8 - 10 months.
Currently: Rarely have any pain, walking up stairs is a breeze, also walking much further distances without pain or needing to rest often. Mental Disposition: Very positive, looking forward to the future, without surgery! Wife happier. (She says I can now resume my duties taking the trash out to the street … J ). No longer anxious about the future. Overall, Life is a much happier experience.
Thank you Dr. Sebastian!"
- Tim H.
OFFICE HOURS
---
Monday
8:30am - 10:30am
4:00pm - 6:30pm
---
Tuesday
4:00pm - 6:00pm
---
Wednesday
8:30am - 10:30am
4:00pm - 6:30pm

---
Thursday
4:00pm - 6:00pm
---
Friday
8:30am - 10:30am
---
Saturday
8:30am - 10:30am
Precise Chiropractic Center
4581 Princeton Lane Suite 119
Lake in the Hills, IL 60156
(847) 669-6888